Beer lovers should find
China
a heaven too. While it is rare to find the likes of
Carlsberg
or
Tiger
, locally brewed beers are nice alternatives. The alcohol level of beers here might be a little lower but the smoothness of it is definitely something to shout about. No bitter aftertaste and goes down almost like water. Be warned though, since it's so easy to drink, you might get drunk before you know it.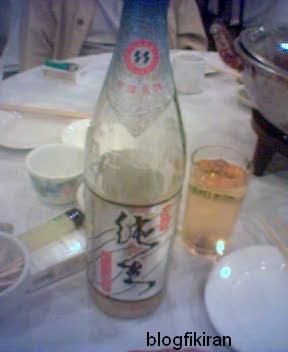 Best beer in Guangzhou...Pearl River
Going outside of Guangzhou, I have the chance to encounter exactly how developed China has turned out to be. As you can see from the pictures here, there are lots of expressways in and out of Guangzhou and it's now possible to drive from this city to in the near future Beijing using only the expressways. All of it is tolled expressways though. If you think the tolls in Malaysia is high, wait till you see what's going on here. I have the opportunity to visit Chaozhou which is situated about 500km from Guangzhou and the amount of toll accumulated was RMB360!! (RM180). One way! There'll be mass riot in Malaysia if the toll charged is the same.
Toll plaza...no such thing as tags or TNG
Charming and courteous toll collectors
Barren mountains are common as it is dry season now.
Cloud formation can be seen outside of polluted Guangzhou
Sunset on the expressway
The small town (by China's standard) of Chaozhou is charming enough if you are lover of the famed Teochew porridge. Otherwise, there's really nothing to shout about other than being the porcelain capital of China. There's less cars here and more bicycles and bikes, so the air quality is much better compared to Guangzhou. This town is perhaps overshadowed by the city of Shantou (hometown of Hong Kong's richest man, Li Ka Seng) which is just about 30 minutes drive from Chaozhou. Basically a port city, it has its own international airport (no direct flights from KL though) and luxurious hotels.
The town of Chaozhou where I left my heart
Typical 'teochew' style houses
A Thai temple in Chaozhou
Shantou Gulf Bridge
The port city of Shantou
Blind dog pissing at the side of the expressway