At around 9am on the 26th December 2004, I felt a slight tremor in my condominium building which lasted for about 5 seconds. I didn't think much of it as I thought it was just me having a terrible hangover from a late night binge. A few hours later, disaster struck the coastal states of Penang, Kedah, Perak and Perlis. Shock waves of a
terrible earthquake
in Sumatra created tsunami waves which lashes through South Asia. At the time of writing, at least 21,000 people were reported dead and thousands other missing in the countries of Indonesia, India, Sri Lanka, Thailand, Maldives, Myanmar, Bangladesh and even Malaysia where more than 50 were reported dead. This is indeed a sad day for Malaysians where we always thought of our country as being natural-disaster free. After the events of 26th December, that thought has been shattered. My condolences goes to all victims.
UPDATED
(28th December 2004): News reports are coming in stating that the death toll in Indonesia alone could reach 20,000! At the time of writing, more than 22,000 death spreading across 10 nations.
The
International Red Cross Federation
is calling for emergency aid. Please support them. Alternatively, you can also contribute to the
Malaysian Tsunami Fund
.
The tsunami wave caught on camera from a plane over the coast of Malaysia. (Picture courtesy of Weng/Davis)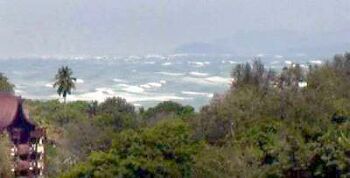 The coast of Batu Ferringhi, Penang. (picture courtesy of The Star)
Somewhere near Gurney Drive I pressume. (picture courtesy of BBC)
Boat caught in a swirl off the coast of Penang (picture courtesy of BBC)
Waves seen here lashing towards a Penang resort. (picture courtesy of BBC)
Marooned boats near Penang (picture courtesy of BBC)
The crowd at Port Dickson on the 26th of December, 2004. Oblivious to the happenings up north. Eventhough the tsunami effect reaches to the coastal area of Selangor, the authorities saw it fit not to warn the people here.
Calm sea off Port Dickson, 26th December 2004