Back to Guangzhou, visitors would still find it uncomfortable to walk around the city by themselves because of the many stories they heard about
China
. While it's alright and wise to take precautions about your wallet/handbags, there's an increase police presence especially near tourist attractions. Otherwise, this city is a shopping haven especially at Beijing Road. Most "branded" stuff can be obtained here. At fixed priced shops, the salesgal/guy are very courteous and helpful but the downside of everything here is shoppers who will "potong q" at the cashier counters. If you think Malaysia is bad, wait till you see what's happening here. Courtesy amongst the general population is still very low (spitting anywhere, dirty public toilets etc). However, those in the service industry are excellent indeed. Even toll collectors would greet and thank you. Price haggling is a norm at other shops though and you can use your Petaling Street tactics here. Businessmen however took a liking to Guangzhou because of its centralized wholesale markets. If you are looking for electronic products, you need only be in one area and the surrounding streets and buildings are full of it. Same goes for goods like stationeries, gifts, toys, fabrics etc. Most 'made in China' stuff you see in Malaysia originates from here. And you'll faint when you compare the price they charge in Malaysia and the price they sell over here. It's dirt cheap here! RM10 for 3 pair of socks? It's possible to find RMB10 for 9 pair of socks here!
The Bintang Walk of Guangzhou..Beijing Road
Start of Beijing Road
The sparse crowd in the morning but come night time, all hell breaks loose.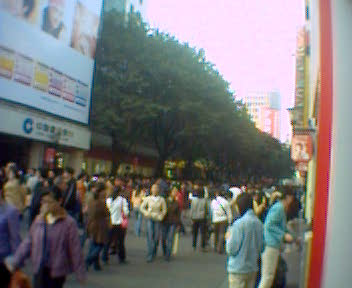 Saturday noon at Beijing Road (lower resolution camera..sorry)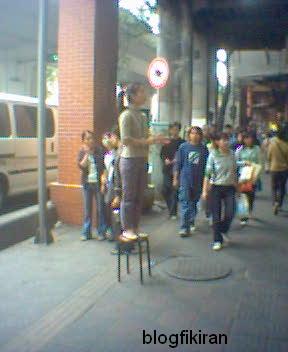 Going to the extreme to attract customers. This is a common phenomenon in this city. Salesgirl at some shops will stand in front of the shop and clap their hands to attract attention. Personally I find this a bit annoying.
The little salon where I got my hair coloured, washed & blow for RMB80 (RM40)
The morning after....
They are everywhere isn't it? A simple alternative from the usual dog's meat.
Come pay a visit to this city. It's still at the moment a more affordable shopping and food haven alternative to Hong Kong.
Malaysia Airlines
have daily direct flights to Guangzhou from Kuala Lumpur